A message from Archbishop Hartmayer
Dear brothers and sisters in Christ,
Peace and all good things!
As Jesus celebrated the Last Supper, He took bread blessed it, broke it, and told his disciples, "Take this, all of you, and eat of it, for this is my body, which will be given up for you…Do this in memory of me" (First Eucharistic Prayer), instituting the sacrament of the Eucharist. These words of Scripture that the priest repeats at every Mass are not only a command for us to celebrate the Eucharist, but also a commission to serve and to take action.
As you know, the entire U.S. Church is in the first year of a three-year Eucharistic Revival to renew our Catholic belief in and devotion to the real Presence of Jesus—body, blood, soul and divinity—in the Eucharist. For this reason, the theme of this year's Archbishop's Annual Appeal is "Do this in memory of me."
Christianity is not only about believing but also doing. When Jesus says, "do this," he commands action. We should not only contemplate Jesus but also imitate him.
Our annual appeal provides an opportunity for us to put our faith into action by putting the gifts with which the Lord has blessed us at the service of others. As the main funding source for all the ministerial, outreach, education, formation and discipleship work of the Archdiocese of Atlanta, your sacrificial giving allows us to continue the work of Christ throughout our archdiocese.
For Catholics, the spiritual fuel to do this work is the same: it is the Eucharist. In the Eucharist, Christ's sacrifice is made present to us. Nourished by the Eucharist, we are sent forth to emulate his sacrificial giving of self. As a spiritual father, I would like to challenge you to let the Spirit lead you into deeper service in your parish and in the world.
Every time you serve, no matter how big or small the task, you kneel with the Lord, washing the feet of others. You are truly strengthened by the Eucharist, obeying his command to "do this in memory of me."
I invite you to prayerfully consider how you can respond to the Lord's call to "do this in memory of me" by supporting the Archbishop's Annual Appeal. A donation to the appeal funds the work that enables service to the Lord beyond what an individual parish can provide, supporting all the faithful in North and Central Georgia.
Thank you for your generosity and faithful commitment to the Church's mission.
Gratefully yours,
†Archbishop Gregory J. Hartmayer, OFM Conv
Archbishop of Atlanta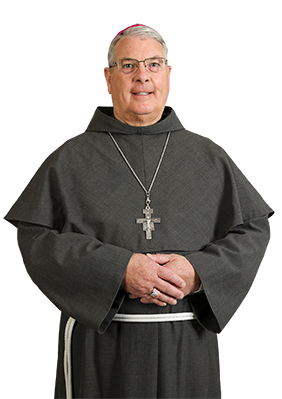 Your gift impacts more than 1,000,000 Catholics
93 parishes, 10 missions and 4 pastoral centers enriching over 1,190,000 Catholics, 10,660 students are being served in our 15 archdiocesan elementary schools, 3 archdiocesan high schools and 6 independent Catholic schools. There are 24,981 students in parish religious education programs. 9 college campus ministries for outreach and evangelization to more than 7 million people in north and central Georgia.
Evangelization to more than 7 million people in north and central Georgia.