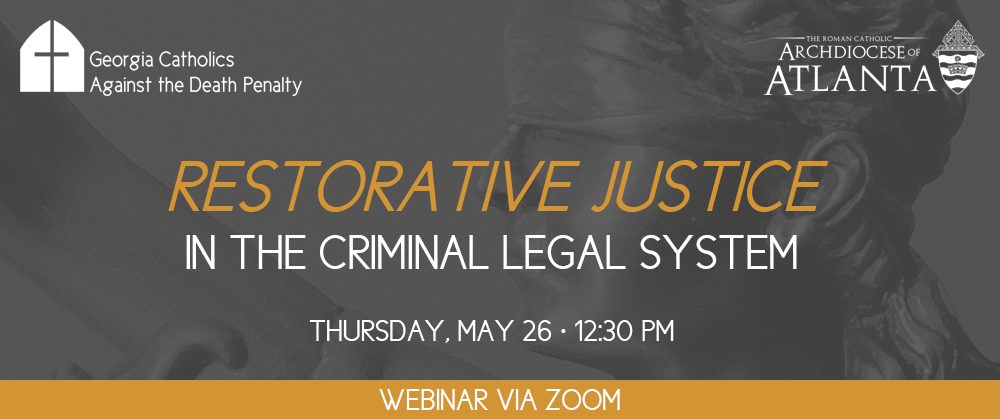 "Restorative justice sees people not as victims or offenders needing pity or punishment, but rather as people whose lives have intersected through harmful behavior and who need that harm healed and integrated."

Susan Sharpe, Ph.D.
A primary point of departure in Catholic social doctrine is the life and dignity of the human person. This, too, is a core understanding in restorative justice, which seeks to promote approaches to justice rooted in human dignity, relationship and healing. As a community of faith that shares these ideals, we can help be part of that movement to shift our criminal legal system from one of retribution to one of restoration and transformation.
Join us via Zoom on Thursday, May 26, at 12:30 p.m. for Restorative Justice in the Criminal Legal System. This lunch hour presentation will look at the affinities between Catholic social doctrine and restorative justice, as well as the very real impact restorative approaches can have in our criminal legal system. We are pleased to welcome our speakers, Caitlin Morneau, Director of Restorative Justice for Catholic Mobilizing Network, and Dr. Elizabeth Beck, Professor in the School of Social Work at Georgia State University's Andrew Young School of Policy Studies.
Please click here to register.
This presentation is co-hosted by Georgia Catholics Against the Death Penalty and Justice and Peace Ministries of the Archdiocese of Atlanta.
|||::
See registration link for details on how to join this event.
Content expires at 9:23am on Thursday January 2nd, 2025