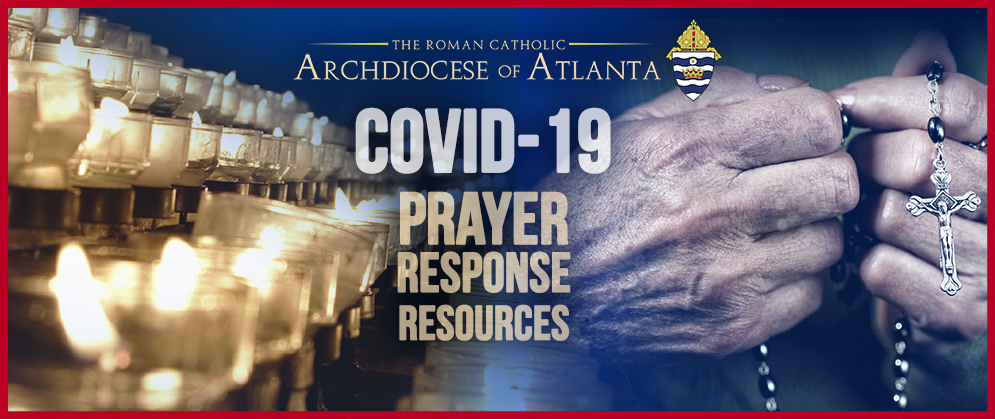 COVID-19
We face an unprecedented situation in our world today with the spread of a mysterious virus. The Archdiocese of Atlanta remains committed to the mission of the church. We will continue to bring Christ into the world. How we do that may change as this situation evolves, but the mission remains the same.
We hope you will join us in prayer, action and joyful hope in the resurrection.
Let nothing disturb you,
Let nothing frighten you,
All things are passing away:
God never changes.
Patience obtains all things
Whoever has God lacks nothing;
God alone suffices.

St. Teresa of Ávila
How You Can Help
Spiritual Support
Prayer and presence are powerful ways to support your church right now. An email or letter to your pastor, deacon or lay ministry team may be just the thing they need to get through these days. When you are watching Mass online, use the comment section to post a response or word of support for those who are working to keep us all connected.
Parish Support
While you cannot put an envelope in the basket right now, you can continue to send donations to your home parish or school. The parishes continue to operate their charitable outreach to the best of their ability. Your pastors continue to pay their staff and your schools are open and still working remotely. All but a very few of our parishes, missions and schools offer online giving. Find your parish website here to register and donate online. For those few parishes without online giving, you can make a donation to the Archdiocese of Atlanta online donation page, select "parish offertory" from the dropdown and specify which parish you wish to support. Your donation will be directed accordingly.
You should also watch your parish website for local donation and collection drives. Several parishes have hosted blood drives and food drives since this started.
The need is greater than ever at this time for food, counseling, housing assistance and more. Catholic Charities staff is working to serve within this new environment. They are accepting cash and gift card donations as well as posting specific needs to their website. You can check often for updates on how you can support their vital mission.
St. Vincent de Paul, utilizing guidelines from their national headquarters, is still distributing aid to those in need. St. Vincent de Paul Georgia has seen an unprecedented surge in requests for help, far exceeding even the 2008 economic crisis. As you might imagine, they expect to see those numbers climb higher and higher in the days to come. You can keep up with needs and ways to help via your parish chapter or the state website here.
Mercy Care Atlanta is serving the medical needs of at-risk communities in the midst of this crisis. In addition to cash donations, you can supply meal kits or cloth masks to help them in their work. See their COVID-19 response page for updates on how you can help.
Health Resources
CDC Nonpharmaceutical Interventions (NPIs)
Protect yourself and others from getting and spreading respiratory illnesses like pandemic flu.
Nonpharmaceutical Interventions (NPIs)  are actions, apart from getting vaccinated and taking medicine, that people and communities can take to help slow the spread of illnesses like pandemic influenza (flu). NPIs are also known as community mitigation strategies. When a new flu virus spreads among people, causing illness worldwide, it is called pandemic flu. Because a pandemic flu virus is new, the human population has little or no immunity against it. This allows the virus to spread quickly from person to person worldwide. NPIs are among the best ways of controlling pandemic flu when vaccines are not yet available.
This website provides decision makers, planners, and public health professionals with educational tools, resources, pandemic planning guides, checklists, and select research about the types of NPIs and how they work in different settings.
Last Updated: March 13, 2020
Communication Materials
CDC offers free resources including video, fact sheets, and posters. Below are links to current communication tools and resources available for use and distribution.
Last Updated: March 13, 2020
Educational Materials
Protecting yourself and others from respiratory illnesses like the flu starts with you. The following are educational materials such as factsheets, videos and trainings on nonpharmaceutical interventions (NPIs) that you can print, watch, act on, and share with others.
Last Updated: March 13, 2020
Handwashing: Clean Hands Save Lives
Handwashing can help prevent illness. It involves five simple and effective steps (Wet, Lather, Scrub, Rinse, Dry) you can take to reduce the spread of diarrheal and respiratory illness so you can stay healthy.
Last Updated: March 13, 2020
Holy Family Counseling Center – Quarantine Survival Guide
This resource provides self-care strategies and tips ranging from daily exercise, hydration, and sleep to the importance of prayer, managing finances, and navigating the daily news. It also comes with a tool to help establish a healthy, daily routine.
Last Updated: April 8, 2020
How to Hand Wash Catholic Style
Provided by the Catholic Diocese of Dallas these printable signs might prove helpful at your parish, school, or organization.
Last Updated: March 13, 2020
Medical Decision-Making and End-of-Life Issues: Guidance for Catholic Leaders & Families
As we face the realities of a pandemic, pastoral leaders and families need an understanding of Catholic teaching on medical decision-making and end-of-life issues to offer ethical and compassionate counsel.
Last Updated: March 19, 2020
Mental Health and Other Resources for Times of Crisis
This time of social distancing, quarantines, and precautions in the face of the novel coronavirus can be an opportunity for deeper prayer, renewal, taking stock of priorities, and balancing work with spending more time with the family. However, it can also be a time that presents unique challenges and stressors for individuals and families. For some, it may exacerbate ongoing personal or familial challenges and difficulties. Below are select resources that may be helpful for families and individuals to consider.
Last Updated: April 16, 2020
Spiritual Resources
God our Father, with His Son, our Lord Jesus Christ, in the unity of the Holy Spirit, continues to seek us out. He desires no more and no less than our hearts. Below are resources to support families, individuals, and ministry leaders in prioritizing prayer and worship of our Lord God in these times. As we seek to follow our Lord Jesus Christ more faithfully and live in Him more completely, may the Holy Spirit be for us an abundant spring of living water during these challenging days, and may He deepen our love for others, especially those most in need.
At-Home Faith Formation
Free Resources to Support At-Home Faith Formation For Ministry Leaders and Parents/Guardians
** Resources will continue to be added to the list below as appropriate. **
Parents & Ministry Leaders
Dear Ministry Leaders and Parents:
The Coronavirus or COVID-19 has caused many challenges for our homes, parishes, schools, and communities. Jesus reminds us especially in these times: Be not afraid! The Church's mission of evangelization and faith formation continues even in difficult times. Leaders and parents are being called to a new level of creativity in making use of available resources at home and online. At the same time, for parents, this is an opportunity to be renewed in the mission of being the first and primary teachers of your children. You can do this!
Below are suggestions for various resources that can assist leaders and parents in advancing faith formation and prayer in homes. We encourage parents/guardians whose children have been enrolled in a parish religious education or faith formation program to be in contact with your local Parish Catechetical Leader (Director of Religious Education, Coordinator of Religious Education, Youth Minister, etc.) for particular guidance and recommendations.
Homes as Safe Havens
Safe Haven Sunday – Homes Should be Safe Places
When accessing and relying upon technology more frequently in the home, it is important for parents and guardians to be smart and safe with technology use. The Archdiocese of Atlanta is observing Safe Haven Sunday on March 22, 2020. Please see the resources available to help parents navigate and lower the risk of online exposure to pornography and other dangerous content. In particular, view the video message from Bishop Konzen (in Spanish by Bishop Schlesinger).
The website Clean Heart Online for the Archdiocese of Atlanta has many resources for parents, leaders, and more. In particular, sign up for a free 7-day package of email tips to help you with the latest parental control ideas for your home: The Safe Digital Family Challenge. Also, if you are looking for ways to limit the digital intake over the next several weeks, sign up for 7 days of emails (free, of course!) offering tech-free family activities and conversation starters: Digital Detox.
Senior Ministry
Medical Decision-Making and End-of-Life Issues: Guidance for Catholic Leaders & Families
As we face the realities of a pandemic, pastoral leaders and families need an understanding of Catholic teaching on medical decision-making and end-of-life issues to offer ethical and compassionate counsel.
Last Updated: March 19, 2020
Catholic Charities Atlanta Services
Catholic Charities is continuing our important work by serving clients remotely through the mail, phone and distance learning. Our focus for many services is on current clients with a wait list for new ones. We realize that many families need supplies and assistance due to layoffs. We are continuing to take these calls, working with our partners and doing our best to assist families with the help they need. This link will provide more information of services available and how those in need can contact Catholic Charities.
Last Updated: March 25, 2020