Why Have a Second Collection?
Second collections are a stewardship learning moment.  As Catholics we are part of a universal Church that extends well beyond our own parish boundaries.  Jesus calls us to "make disciples of all nations" (Mt. 28:19).  Through the second collection, we have a ready opportunity to give to those causes held up by our Church leaders as important in fulfilling that call of Our Lord.
Second collections develop international awareness of the needs of those beneficiaries—whether an Indian child on a North Dakota reservation or a pilgrim to the Holy Land.  The bishops in the United States created the national collections so that by combining our resources we can more effectively carry out our mission as Catholics.  Each of the collections is worthy of support and represents our community of faith at its best—working in the world, improving lives, and saving souls.
Donor Rights
We take our donors' intentions seriously.  The Archdiocese of Atlanta has adopted a "Donor Bill of Rights." to assure you that the gifts you give, whether at the parish level or the archdiocesan level, will be used for the purposes for which they were given.  For example, when a second collection is held for the Catholic Relief Fund, donors can be confident that their financial gift is being forwarded to Catholic Relief Services.
If for some reason, a donor does not wish to support an organization designated for the second collection, they need only withhold their second collection gift on that particular Sunday.
Second Collection Schedules
Second Collection Schedule for 2023
Content Type: PDF
Last Updated: March 30, 2022
Second Collection Schedule For 2024
Content Type: PDF
Last Updated: February 24, 2023
Upcoming Second Collections
Please view these collections in the light of stewardship and of sharing. God has given us our life and our prosperity; it is right and just that we give something back helping people in our own country and throughout the world. Thank you for your generous response!
Directions: Click on the download button to download a Word document with additional information about each second collection.  Click on the images to open them to full size in a new tab. Generally the first image is in English and the Second is in Spanish.  To save an image after opening please right click and select Save Image As… or follow the instructions that match your browser.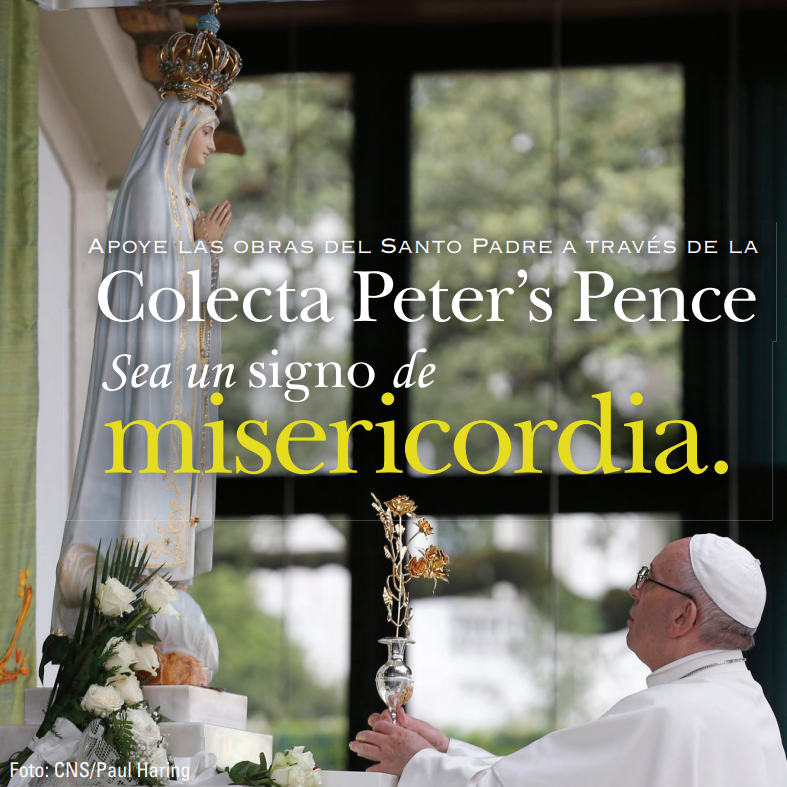 Peter's Pence Collection – July 1-2, 2023
Today is the Peter's Pence Collection, a worldwide collection that supports the work of the Universal Church, including the work of the Holy See and the charitable works of Pope Francis. Take this opportunity to join with Pope Francis and be a sign of mercy to our suffering brothers and sisters. Please be generous today. For more information, visit www.obolodisanpietro.va/en.html.
---
Hoy es la Colecta Peter's Pence, una colecta a nivel mundial que apoya la labor de la Iglesia universal, incluyendo la labor de la Santa Sede y las obras de caridad del papa Francisco. Tomen esta oportunidad para unirse al papa Francisco y sean un signo de misericordia para nuestros hermanos y hermanas que sufren. Por favor, sean generosos hoy. Para más información, visiten www.obolodisanpietro.va/es.html.
Last Updated: May 1, 2023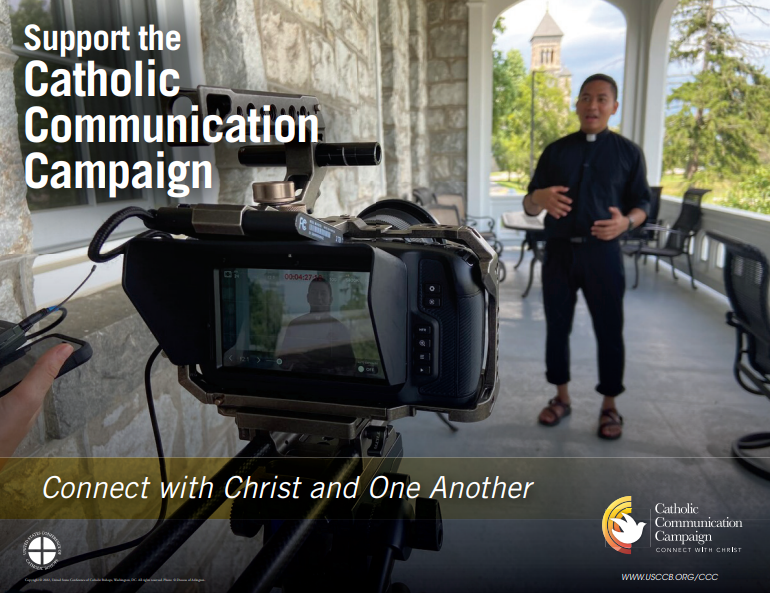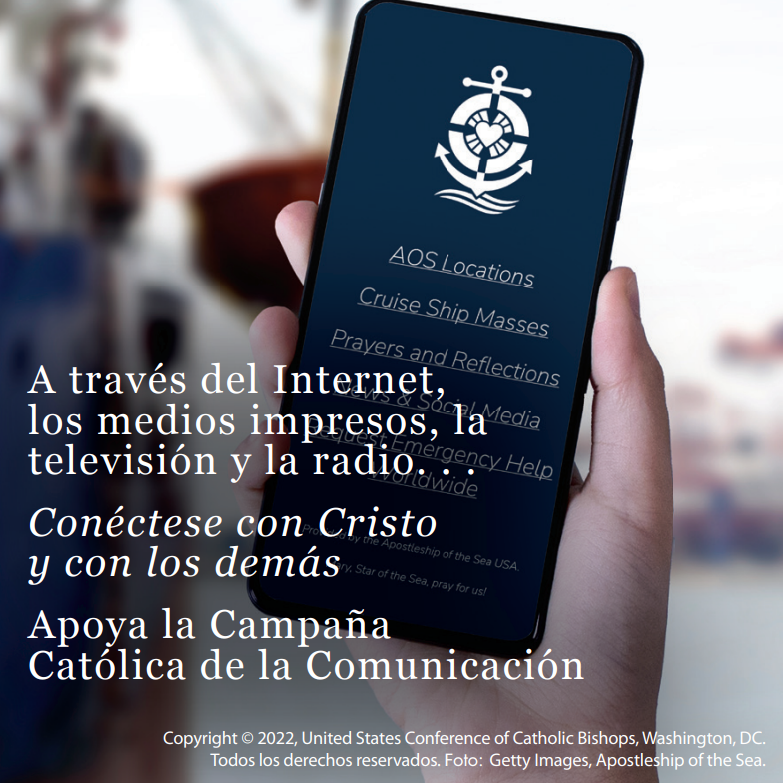 Catholic Communication Campaign – May 20-21, 2023
Today we take up the collection for the Catholic Communication Campaign (CCC). Your support helps CCC engage and build Catholic communities in the United States and around the world using the internet, television, radio, and print media. Half the funds we collect remain here to support local efforts. [INSERT DIOCESE NAME] in the Be a part of this campaign to spread the Gospel message. www.usccb. Support the collection today! To learn more, visit www.usccb.org/ccc
---
Hoy realizaremos la colecta para la Campaña Católica de la Comunicación (CCC). Su apoyo ayuda a la CCC a construir comunidades católicas y hacerlas partícipe tanto en Estados Unidos como alrededor del mundo utilizando la Internet, la televisión, la radio y los medios impresos. La mitad de los fondos recaudados permanece aquí en la ] para financiar INSERTAR EL NOMBRE DE LA DIÓCESIS [ los esfuerzos locales. Sean parte de esta campaña para difundir el mensaje del evangelio. ¡Apoyen a la colecta hoy! Para informarse más, visiten www.usccb.org/ccc
Last Updated: April 28, 2023
Catholic Home Missions Appeal – April 29-30, 2023
THE WEEK OF THE APPEAL – April 29 – 30, 2023
Support the Catholic Home Missions Appeal today! Nearly 40% of dioceses in the United States and its territories are considered mission territories because they are unable to fund essential pastoral activities needed in their communities. Your support funds religious education, seminary formation, lay ministry training, and other programs that build vibrant faith communities right here in the United States. Please be generous. More information can be found at www. usccb.org/home-missions
---
SEMANA DEL LLAMADO – El 29 y 30 de abril
¡Apoyen hoy al Llamado para las Misiones Católicas! Cerca del 40% de las diócesis en Estados Unidos y en sus territorios es considerado territorio misionero ya que esas diócesis no pueden financiar las labores pastorales básicas que se necesitan en sus comunidades. El apoyo de ustedes financia la educación religiosa, la formación de seminaristas, la capacitación de ministros laicos y otros programas que forman entusiastas comunidades de fe, aquí mismo, en los Estados Unidos. Por favor, sean generosos. Pueden encontrar más información en www.usccb.org/home-missions.
Last Updated: March 29, 2023