"…the purpose of this Synod, and therefore of this consultation, is not to produce documents, but to 'plant dreams, draw forth prophesies and visions, allow hope to flourish, inspire trust, bind up wounds, weave together relationships, awaken a dawn of hope, learn from one another and create a bright resourcefulness that will enlighten minds, warm hearts, give strength to our hands'" (Preparatory Document, 32).
In a spiritual sense, discernment is the art of interpreting in what direction the desires of the heart lead us, without letting ourselves be seduced by what leads us to where we never wanted to go. Discernment involves reflection and engages both the heart and the head in making decisions in our concrete lives to seek and find the will of God." (Vademecum 2.2)
Each parish, school or group who hosted a local listening session should submit one report here. Representatives from each parish, school or group should send one to two representatives to a regional meeting. Other participants are welcome within the space constraints of those meetings, which is why we are asking for reservations. The archdiocesan Synod Team will distill the local and regional reports into one 10-page report to submit to the U.S. Conference of Catholic Bishops.
Once the listening sessions are done and the pre-synodal meeting takes place, the Archdiocese of Atlanta will publish its summary report on this website. Pastors will be encouraged to publish or share their local reports with the local community. Local reports will be anonymous so participants can feel free to share their reflections openly. The Synod then moves to its next phase.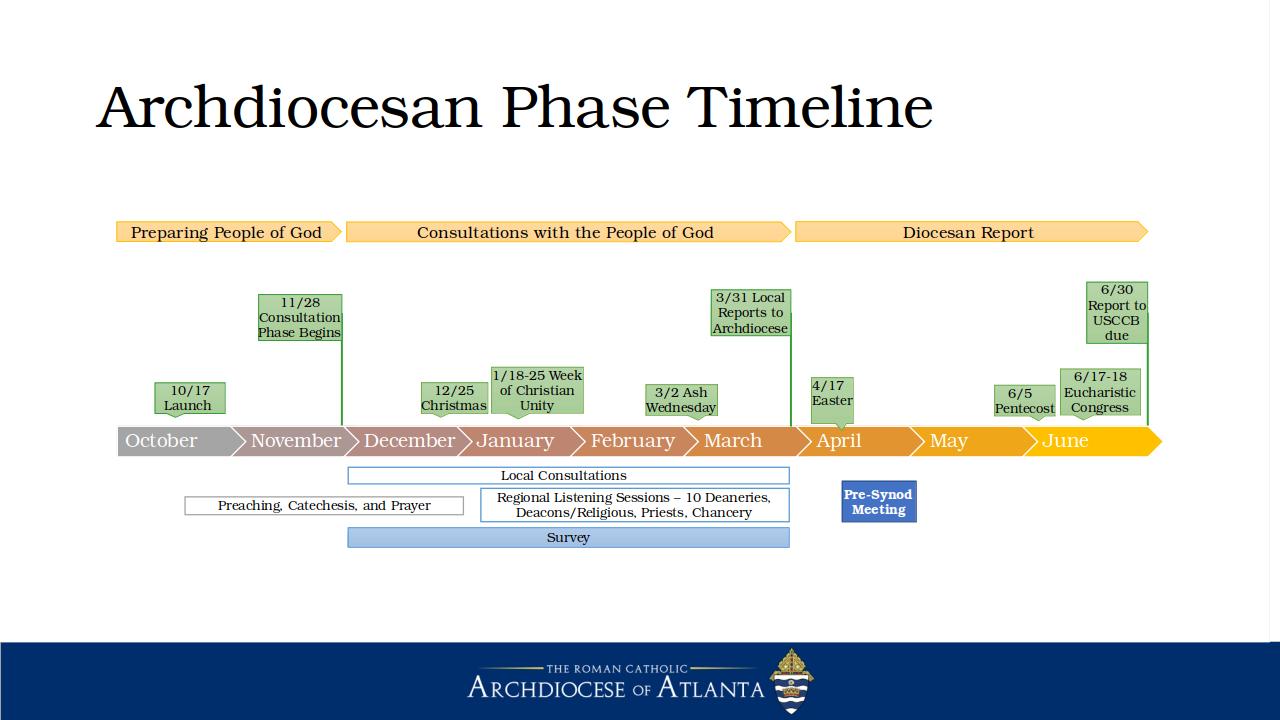 Locally, the reports will not be the end of this process. The Archdiocese of Atlanta's bishops and Synod Team will enter a discernment phase, rooted in prayer, to determine what next steps the Holy Spirit may be calling the Church in Atlanta to take.