There is neither Jew nor Greek, there is neither slave nor free person, there is not male and female; for you are all one in Christ Jesus.
Galatians 3:28
The Office of Intercultural Ministry (the "OIM") exists so that the faithful of the Archdiocese of Atlanta can do the work of evangelization of the Lord Jesus Christ united in our diversity. To that end, the OIM strives to build bridges for that all cultural families present in the Archdiocese can be included and integrated the evangelistic action of this local church, to embrace their diversity by receiving with joy the gifts and blessings that each cultural family brings to the local community. To accomplish these goals, the OIM offers ample options for Intercultural Competencies development –from short parish-based offerings to a college-based certification course. The goal of our Intercultural Competencies courses is to bring down the barrier of "otherness" by creating places of encounter where all cultures can get to know and understand each other's' gifts and uniqueness. The OIM also engages interdepartmental collaboration within all offices in the Chancery and other Catholic entities so that the pastoral needs of all cultural families are served, while considering their cultural uniqueness, sensitivities, and native language. The OIM also offers other Chancery offices, parishes, deaneries, priests, religious and lay leaders, consultation opportunities and advise as to how to reach out to all cultural families and provide needs in a culturally sensitive manner. Furthermore, the OIM provides cultural community support and advocacy for all cultural families, as well as ecumenical community engagement and leadership development.
Mr. Ashley Morris, M.Th. - Director of Black Catholic Affairs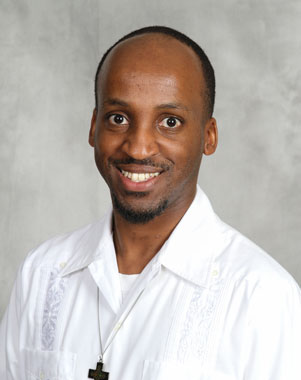 Mr. Ashley Morris currently serves as the Director of the Black Catholic Affairs Office of Intercultural Ministries of the Roman Catholic Archdiocese of Atlanta. Prior to this appointment in October 2015, he served as the Assistant Director of the former Office of Black Catholic Ministry of the Archdiocese of Atlanta and as an Assistant Campus Minister of Lyke House: The Catholic Center at Atlanta University Center (AUC).
A native of Birmingham, AL, Ashley received his Bachelor's Degree in Mass Media Arts, Concentrating in Radio, TV and Film from Clark Atlanta University in 2005. He received his Masters of Pastoral Theology from the Institute of Black Catholic Studies of Xavier University of Louisiana (New Orleans) in 2014. As an employee of the Roman Catholic Archdiocese of Atlanta since 2007, he is also a member of the Pan African Catholic Organization of Atlanta (PACOA), the National Association of African Catholics in the United States (NAACUS), and the National Association of Black Catholic Administrators (NABCA). Ashley continuously serves on a variety of national committees and ministry groups, including serving as a consultant on the Subcommittee of African American Affairs and the Bishops Working Group on Youth and Young Adult Ministry of the United States Conference of Catholic Bishops. He also serves on the Multicultural Ad Hoc Committee of the National Federation of Catholic Youth Ministers (NFCYM) and on an Exploratory Task Force for the National Institute for Ministry with Young Adults. He has also given multiple presentations to a wide variety of communities on intercultural competency development, Black Catholic history, and racism.
Ashley and his wife, LaSheka are parishioners of the historic Our Lady of Lourdes Catholic Church in Atlanta. The couple has organized youth retreats and participated in several activities involving young adults in the Church, including facilitating webinars for the National Black Catholic Congress (NBCC). Ashley and LaSheka have one beautiful toddler daughter named Arianna.
Yolanda Muñoz, MTS. - Director of Hispanic Latin American Affairs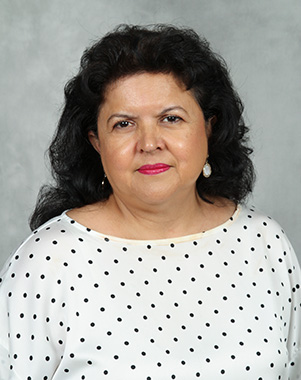 Yolanda Muñoz is a native of El Salvador. She moved to Atlanta to escape the civil war in her country in the time of Archbishop Romero.  When she arrived in Atlanta, she became a member of Immaculate Heart of Mary parish where a small group of Cubans had just started a Spanish Mass. This was one of only two parishes that had Spanish Mass in Atlanta at that time.  She was a member of the first Hispanic youth group "Juventud Católica Latina de Atlanta" this group organized the First "Experiencia Cristo". She graduated from Georgia Tech with a Bachelor of Science in Industrial Management degree. In Georgia Tech she founded and was president of the first LULAC chapter in a college campus.  She was the Hispanic representative in the Office of Minority Educational Development, OMED, and she was a Student Assistant in the President's office. Yolanda married Fernando, her first love whom she met in the Spanish Mass at IHM. They have three children. At her parish she has participated in Cursillo, Cristo Renueva su parroquia, and Grupo de parejas. She serves as Extra Ordinary Minister of Holy Communion and worked for 5 years before joining our team in the OIED.  She served for three years in the Advisory board for the principal at Saint Pius X High School. When her children finished high school, Yolanda and her husband went back to school and earned a master's degree in theological studies.
Gracie Mulero - Office Manager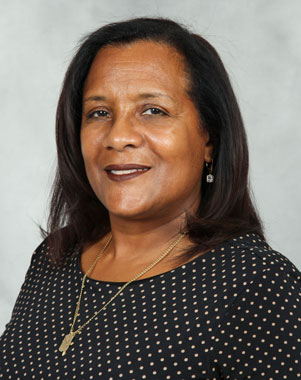 Ms. Graciela (Gracie) Mulero serves as the Office Manager for the Office of Intercultural Ministries of the Archdiocese of Atlanta.  Prior to the formation of our current office structure, Graciela served as the Office Manager for the Office of Black Catholic Ministry. Altogether she has served in the Archdiocese of Atlanta for twenty one years. Originally from Philadelphia, PA, Graciela is of Puerto Rican descent and is a retired veteran from the United States Army. She served her country in a variety of capacities during her twenty years in the military, which includes serving as an Office Manager and Administrative Specialist during tours in Germany, South Korea, Virginia, and Florida. She has an Associate's Degree in Liberal Arts from St. Leo College in Hampton, VA, as well as an Associate's Degree in Medical Office Administration and a B.S. in Administrative Management from Clayton State University in Morrow, GA. She has recently earned a Master's Degree in Criminal Justice from St. Leo University. Graciela has two adult children, A daughter who is serving in the rank of Major in the United States Air Force, a son studying in the state of California and an eleven year old grandson.
Carmen L Coya-van Duijn, OP - Assistant Director Intercultural Competency & Communications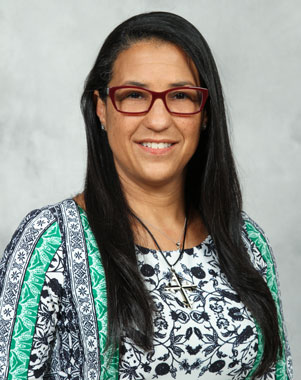 Mrs. Carmen Coya-van Duijn serves as assistant director of Intercultural Competencies and Communications for the Office of Intercultural Ministries of the Archdiocese of Atlanta. Carmen serves this ministry with communications and event support as well as manages the Intercultural Competency course online. She brings her experience and expertise as media relation consultant with over 30 years in the arenas of Public Relations, Broadcast TV & Radio production to serve the Roman Catholic community of Atlanta. Under the leadership of her public relations firm Effective Media Company, she has had the blessing to work with high profile clients like P&G, Coca Cola and the United States Tennis Association as well as serve as launch producer for MTV Latino. However, her greatest blessing was to serve as one of the media liaisons/production translators for Papal visit 2015 and currently consultant for Pontifical University of St. Thomas Aquinas (Angelicum). Carmen serves as a spokesperson on issues impacting the community such as immigration, child sex trafficking, civil rights, and is media strategist commentator for some of the news networks. She  received her bachelor's in science in broadcast journalism from Florida International University. She also has earned her Master's in Arts and Religion in Theological Studies and M.Div.in Theology from Liberty University. Currently she is finishing her S.T.B. at the Angelicum. Coya is multi-lingual and a temporary professed lay of the Order of Preachers (Dominicans). Both her husband and son serve in the U.S. Army. Her daughter is a student at SCAD.
| Guiding Principals | Areas of Service |
| --- | --- |
| Inclusiveness | Intercultural Competencies Development |
| Unity in Diversity | Interdepartmental Collaboration |
| Bridge-building | Internal departmental and external organizational bridge-building |
| Inculturation | Cultural Community Support/Advocacy |
| Advocacy | Ecumenical Community Engagement |