Parishes, schools, campus ministries, movements, apostolates, and others can use the following four pillars, proposed by the National Eucharistic Revival, as a prism for discerning their own events and initiatives.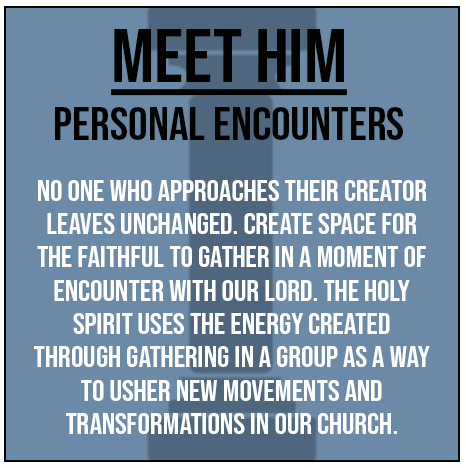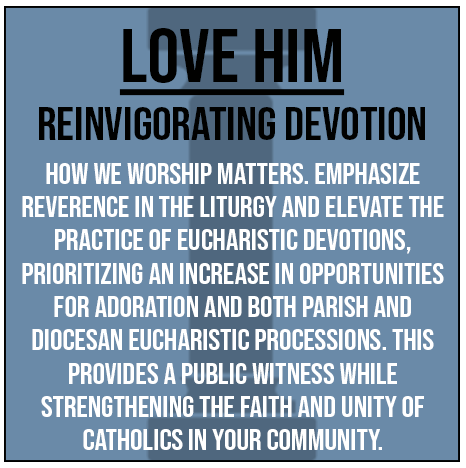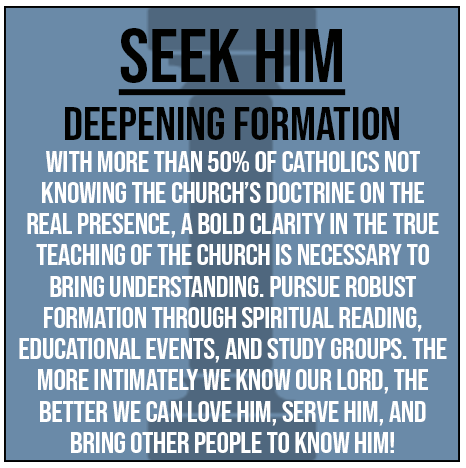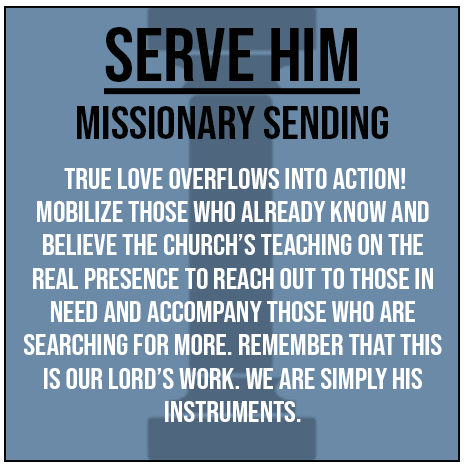 Eucharistic Revival Leaders Playbook Now Available
Eucharistic Revival Leaders Playbook – The Leader's Playbook is designed as a springboard to help leaders—including Parish Point Persons for the Revival—brainstorm creative, effective, and practical initiatives that fit the unique character and needs of their community.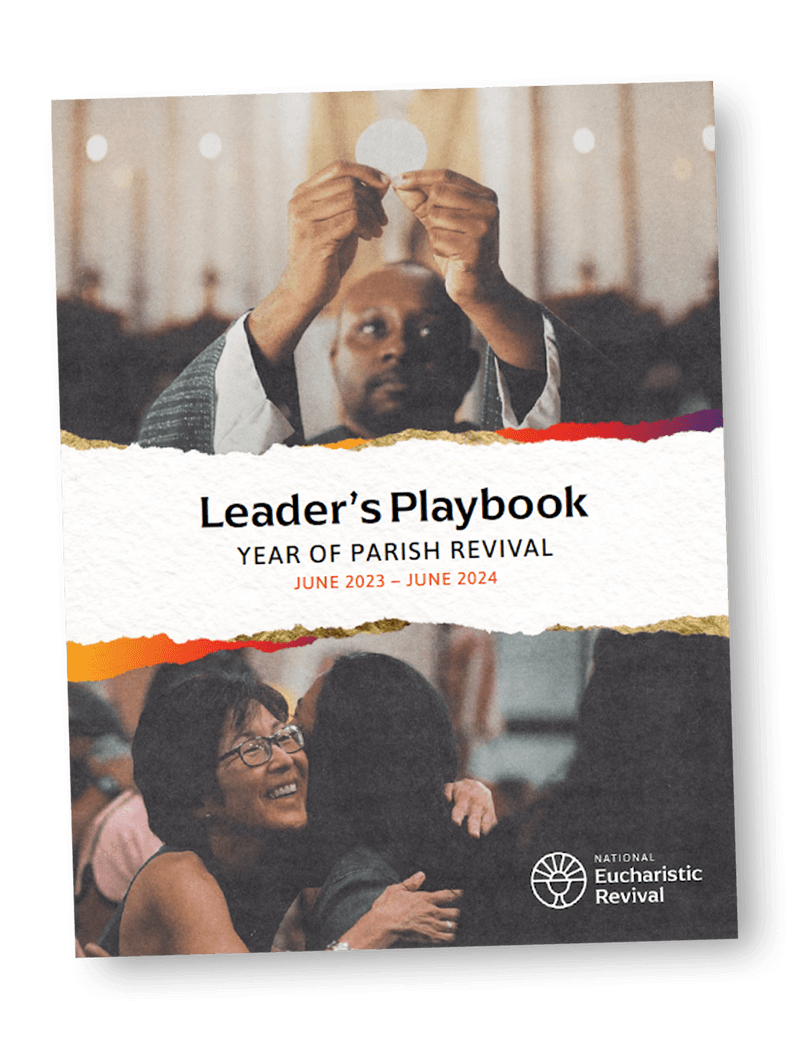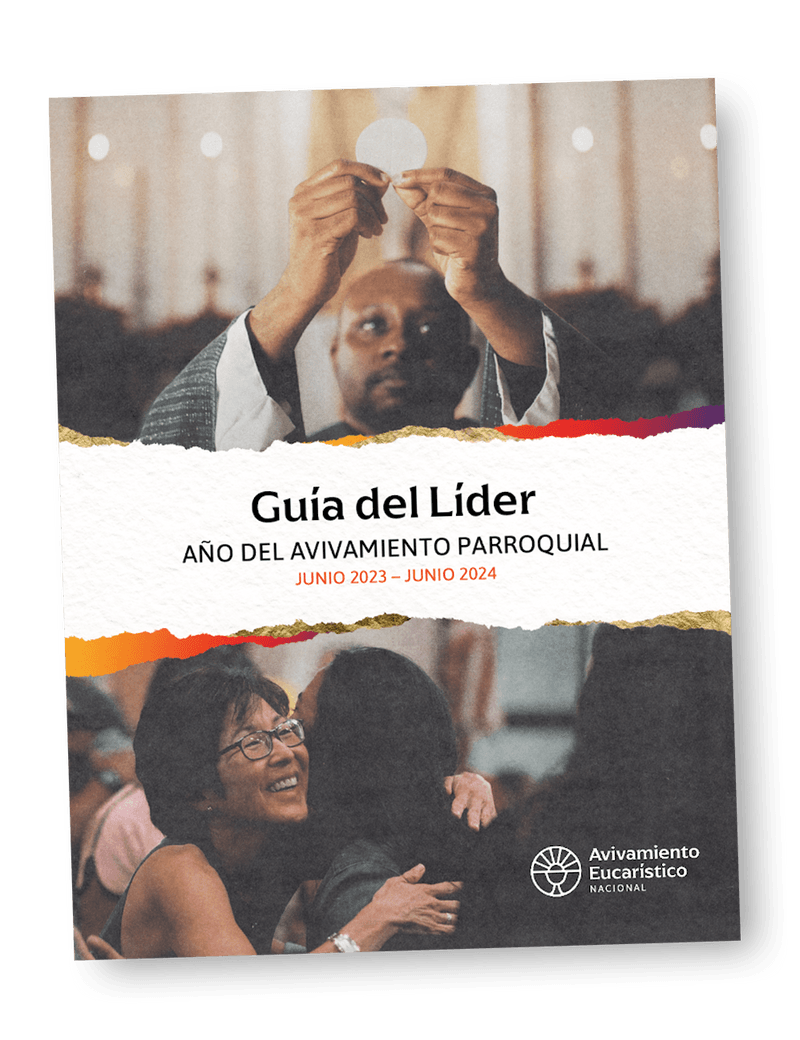 Other Parish/School/Community Resources
Promote the Revival
Bulletin Inserts (from National Eucharistic Revival) – Invite your parishioners to get involved with the Revival with an eye-catching bulletin feature! Click below to download files in a variety of sizes, available in both English and Spanish.
See social media graphics above
Pray for the Revival
Eucharistic Processions & Devotions
Knights of Columbus: Access a range of resources available to support the Eucharistic Revival, including resources for Eucharistic processions.
Resources for Eucharistic Processions: See the guidebook and other promotional and video resources available from the Knights of Columbus here. See booklet template and musical resources available from Source & Summit here.
40 Hours Devotion – The Forty Hours Devotion is an opportunity to gather as a community before the Blessed Sacrament and to pray before the Lord in solemn adoration. It gives us time to deepen our appreciation of the importance of the mystery of the Eucharist in our lives. The Archdiocese of Boston website has helpful information outlined for Catholic communities desiring to begin a 40 Hours Devotion.
Nights of Mercy and Noches de Misericordia templates for Advent and Lent or adaptable for anytime in the year.
Resources for Small Groups & Ongoing Formation
In Becoming Eucharistic People, theologian Timothy P. O'Malley, author of Real Presence, outlines four essential dimensions of a Eucharistic culture in a parish—one that fosters reverence and unity among the faithful, includes every dimension of human life in the mystery of Christ's Body and Blood, and invites people back to parish life or to become Catholic for the first time.
"Becoming Eucharistic People" Free Supplemental Resources
As part of the Engaging Catholicism series, the McGrath Institute for Church Life is pleased to offer resources to accompany Timothy O'Malley's book, Becoming Eucharistic People: The Hope and Promise of Parish Life.
By Bishop Robert Barron
This Is My Body is designed to accompany the Eucharistic Revival. In this short book, Bishop Barron analyzes the source and summit of the Christian life according to the categories of meal, sacrifice, and Real Presence. Order it in bulk for your whole parish!
Video Resources and More through the National Website: Access a growing library of resources for use by individuals and groups.
Learn How to Embrace the Gift of the Eucharist: Free course by Bishop Andrew Cozzens, chairman of the USCCB Committee on Evangelization and Catechesis.
Virtual Eucharistic Revival Conference: Register for free access to a conference dedicated to advancing the Eucharistic Revival through renewing or building a Eucharistic culture in our parishes, schools, and homes.
The Rescue Project: The Rescue Project seeks to proclaim the gospel in a compelling and attractive way over eight weeks in a small-group format. This experience is imbued with beauty, authentic humanity, and accompaniment. Parish and school leaders interested in running this initiative are encouraged to contact the Office of Evangelization and Discipleship (Monica Oppermann) for more information.
The Mystery of the Eucharist in the Life of the Church: This document approved by the United States Conference of Catholic Bishops (USCCB) in 2021 is a key reference for the National Eucharistic Revival.
I AM HERE: Access powerful personal testimonies about the Eucharist in this initiative by the Archdiocese of Detroit and Hallow App in support of the National Eucharistic Revival.
Eucharistic Miracles Exhibition: Learn about the International Exhibition of Eucharistic Miracles created and designed by Blessed Carlo Acutis.
Program in Priestly Renewal: Eucharistic Revival – The McGrath Institute for Church Life invites you to explore this resource, developed to support clergy and encourage participation in the National Eucharistic Revival. Available in both English and Spanish, this resource features a series of videos on the Eucharistic spirituality of priests and reviving a Eucharistic culture.
Catholic Apostolate Center – Webinars for Leaders: Learn what's happening nationally and in other dioceses to advance the Revival.
Eucharistic Revival Logos
Click on an image to see it full size. To download an image right click on full size version and save it to your computer.
Social Media Infographics
Click on an image to see it full size. To download an image right click on full size version and save it to your computer.
How can I…