This year, the Archdiocese of Atlanta Laudato Si' Initiative is participating in the #iGiveCatholic giving campaign. Advanced giving has begun and culminates on Giving Tuesday, November 29. We hope those of you who are able will make a donation to our campaign. We would also like to ask everyone to consider posting our campaign on your socials as well as spreading the word to your networks, families and friends. We have an ambitious goal that will help us make a significant impact, and your support is much appreciated.
Laudato Si' Action Plan for the Archdiocese of Atlanta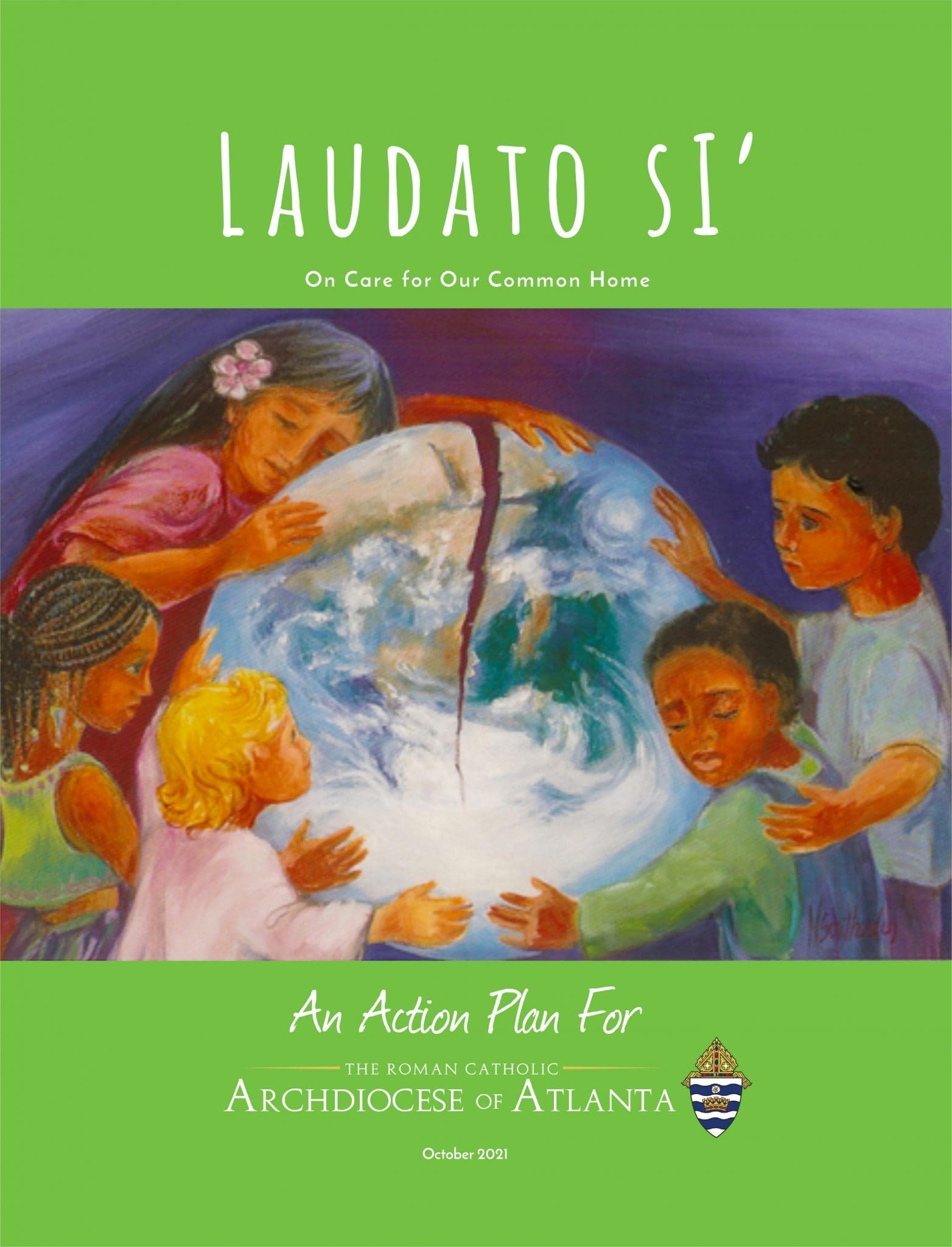 The "Laudato Si' Action Plan," authored by University of Georgia professors and staff, contains a variety of options for parishes and parishioners to help reverse the threat of global climate change and environmental degradation, and create a more sustainable world in harmony with God. As Catholics, we are urged by Pope Francis to seek the change of heart that is required to make these actions part of our daily lives. Click on the link to find out more information and how you can get involved!
The Laudato Si Initative
Our vision is to be a servant leader in integral ecology, modeling fully integrated social, environmental and economic justice, and sustainability.
Our mission is to build greater solidarity among North Georgia Catholics so that we may more fully hear the cry of the earth and the cry of the poor, and take urgent and impactful action to weave together social, environmental and economic justice and sustainability into our Catholic way of life.
Description
The Archdiocese of Atlanta Laudato Si Initiative (LSI) is a seven-year effort based on the concept of integral ecology – meaning the connectivity of everything. With Pope Francis' Encyclical Letter Laudato Si as a moral compass, the LSI will build on the momentum of the Archdiocese of Atlanta Laudato Si Action Plan, the Annual Green Mass, and experience gained from the 2017 Laudato Si Action Plan Pilot Project. The Archdiocese will take urgent and impactful action on the Pope's plea to "cooperate as instruments of God for the care of creation, each according to his or her own culture, experience, involvements and talents."
Leonard Robinson (Sustainability Strategist) and Brian Savoie (Sustainability Program Coordinator), are working part-time as servant-leaders under the direction of Kat Doyle (Director of Justice and Peace Ministries). Our Bishops (Archbishop Hartmayer, along with Auxiliary Bishops Konzen and Shlesinger) fully support this effort. An Archdiocesan-level Sustainability Committee and Creation Care Team will provide advice to LSI program leaders and will help in acquiring technical, educational and financial resources. Expanding on the passion and experience of existing Creation Care Teams, the Archdiocese of Atlanta is positioned to lead and support initiatives in parishes, missions and schools across Northeast Georgia.
Goals
The LSI builds on the success and momentum of the 2016 Laudato Si Action Plan (LSAP), the annual Green Mass, the integration of the LSAP/LS into our school curricula, and the experience gained from the 2017 Laudato Si Action Plan Pilot Project. To build a just socially, environmentally and economically and sustainable way of being the Roman Catholic Archdiocese of Atlanta, the overarching LSI goals for the chancery, parishes, missions, and schools are as follows:
Move Forward as a Servant Leader in Integral Ecology
Reduce our Environmental Impact via Comprehensive, Urgent and Impactful Action
Incorporate Comprehensive Climate Action throughout the Archdiocese
Continue to Advocate for Social, Economic and Environmental Justice
Create and implement a Sustainable, Sharable and Duplicable Laudato Si Initiative
Collaborate and cooperate with like-minded groups including governmental agencies and other faith-based organizations
2020 Cohort
The following parishes and schools participated in the 2020 Laudato Si Initative cohort. They received energy and water audits and worked with Georgia Interfaith Power and Light (GIPL) to develop a 3-year Sustainability Improvement Plan that they have committed to implement and track. Parishes and schools have also committed to starting or strengthen existing Green or Creation Care Teams.
Archdiocese of Atlanta Chancery
Holy Family Catholic Church
Our Lady of the Assumption Catholic Church
Our Lady of the Assumption Catholic School
Saint John Neumann Catholic Church
Saint John Neumann Regional Catholic School
Saint Joseph Catholic Church, Marietta
Saint Joseph Catholic Parish School
Saint Lawrence Catholic Church
Saint Oliver Plunkett Catholic Church
Saints Peter and Paul Catholic Church
Transfiguration Catholic Church
2017 Pilot Project Cohort
Participants:
Christ Our Hope Catholic Church
Mary Our Queen Catholic Church
Our Lady of Victory Catholic Church
Saint Catherine of Siena Catholic Church
Saint Catherine of Siena Catholic School
Saint George Catholic Church
Saint Mary's Catholic Church (Rome)
Saint Mary's Catholic School
Saint Matthew Catholic Church (Tyrone)
Saint Paul the Apostle Catholic Church
Saint Pius X Catholic Church
Saint Peter Claver Regional Catholic School
We ask you to prayerfully consider supporting this integral work with a financial gift. Donations may be made on a one-time or recurring basis.
Laudato Si': On Care for Our Common Home
On Care for Our Common Home (Laudato Si') is the appeal from Pope Francis addressed to "every person living on this planet" for an inclusive dialogue about how we are shaping the future of our planet. Pope Francis calls the Church and the world to acknowledge the urgency of our environmental challenges and to join him in embarking on a new path. This encyclical is written with both hope and resolve, looking to our common future with candor and humility.
The Green Mass
The annual Green Mass celebrates the commitment of those working and volunteering in agriculture and environmental sustainability across North Georgia. We join together to recognize that we are all connected in the protection of our planet and to answer Pope Francis' call to "cooperate as instruments of God for the care of creation."
Resources
Get Involved
Contact Information