What is restorative justice?
Restorative justice is a principled approach to achieving justice that emphasizes living in right-relationship and resonates deeply with Gospel values and Catholic Social Teaching.
A restorative justice approach undergirds opposition to the death penalty, centers the needs of victim-survivors, promotes racial equity, honors indigenous peacemaking tradition and actualizes forgiveness and reconciliation.
– Catholic Mobilizing Network
Catholic Social Teaching
Restorative Practices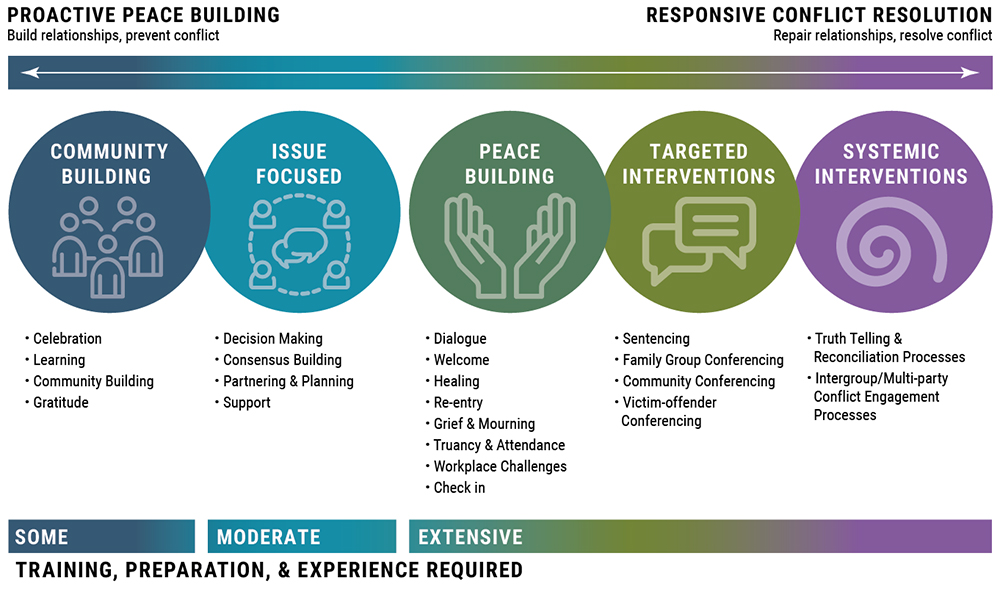 Circle process has been used by Indigenous peoples around the world for millennia and is a foundational restorative practice. Circles can be a method to address a harm that has occurred through respectful, facilitated conversation. Once shared values and guidelines are agreed upon, a talking piece is used to indicate an individual's turn to speak, while others should listen respectfully. These circles can be focused on peacebuilding, healing from trauma or grief and much more.
Community conferencing is a form of circle process, and has a number of applications, from court diversion programs to prisoner re-entry, returning military service members, as well as in schools and in workplaces.
Other forms of restorative practices include victim-offender dialogue, truth and reconciliation processes, sentencing conferences and more. All of these practices and approaches are engaged in with honesty, respect and non-violent communication.
Get Involved
Paths of Renewed Encounter
Catholic Mobilizing Network offers Paths of Renewed Encounter, an engagement guide that invites individuals and groups to embrace healing approaches to crime, harm and injustice while reflecting on the unique ways that Catholic ministries and teachings can shepherd processes that transform relationships, communities and systems. It draws on the experience of a wide array of contributors, the prophetic call of Pope Francis' encyclical, "Fratelli Tutti," and the well-known pastoral cycle for social action.
Paths of Renewed Encounter can be an excellent resource for parish ministries, particularly prison or social justice ministries, interested in incorporating restorative approaches into their pastoral work.