There is no one solution to defeating a pornography problem. A combination of the suggestions below is recommended.
Clean Heart Online
Clean Heart Online equips men, women, parents, and Catholic leaders to become educated on the harmfulness of pornography, find freedom from pornography, or help others in the pursuit of purity and chastity.
"Breaking Free" Card
To order the "Breaking Free" business card, please contact us at 404-920-7643. This card may be placed in the gathering space of the parish or handed out to those who request help.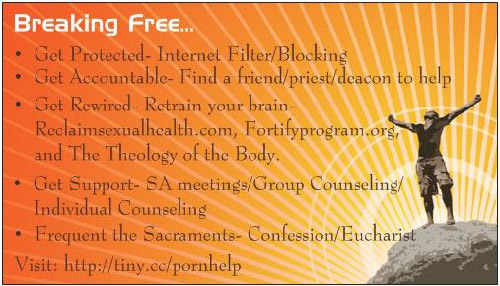 Get Protected
Removing the temptation is a crucial step in winning the battle.  Today, pornographic images come at us from all angles, but we can take steps to protect ourselves and those we love from intentionally or unintentionally viewing pornographic material. It's important to envision our computers and smart devices as "doorways" that need some form of protection or lock. Would we allow a person, who had the intention to harm us or our family, through our front door and into our home? Here is a great resource to get you and your family protected.
Covenant Eyes – Internet Accountability tracks the websites that you visit on your computers, smart phones, and tablets, and sends them in an easy-to-read report to someone you trust. This makes it easy to talk about the temptations you or your family members face online.
Get Accountable
Get Rewired
Get Support
Frequent the Sacraments